Nanomedicine
For Precision
Radiotherapy
Nanomedicine
For Precision
Radiotherapy
Nanomedicine
For Precision
Radiotherapy
Nanomedicine
For Precision
Radiotherapy
Nanomedicine
For Precision
Radiotherapy
Nanomedicine
For Precision
Radiotherapy
AGuIX®: an innovative nanodrug with the aim to improve radiotherapy treatment of cancer
MEYLAN, France, BUBENDORF, Switzerland (November 3rd, 2021) - NH TherAguix, a clinical stage company developing innovative nanomedicine for the treatment of cancer, and CARBOGEN AMCIS, a pharmaceutical process development and Active Pharmaceutical Ingredient (API) and...
Grenoble (France), 13 octobre 2021 - L'offre proposée a suscité un intérêt immédiat de la part des investisseurs, conscients du potentiel du candidat-médicament AGuIX® et des besoins médicaux non-satisfaits auquel ce dernier répond. Toutefois, au vu du contexte...
Radiother Oncol., 2021, 160, 159-165.C. Verry, S. Dufort, J. Villa, et al.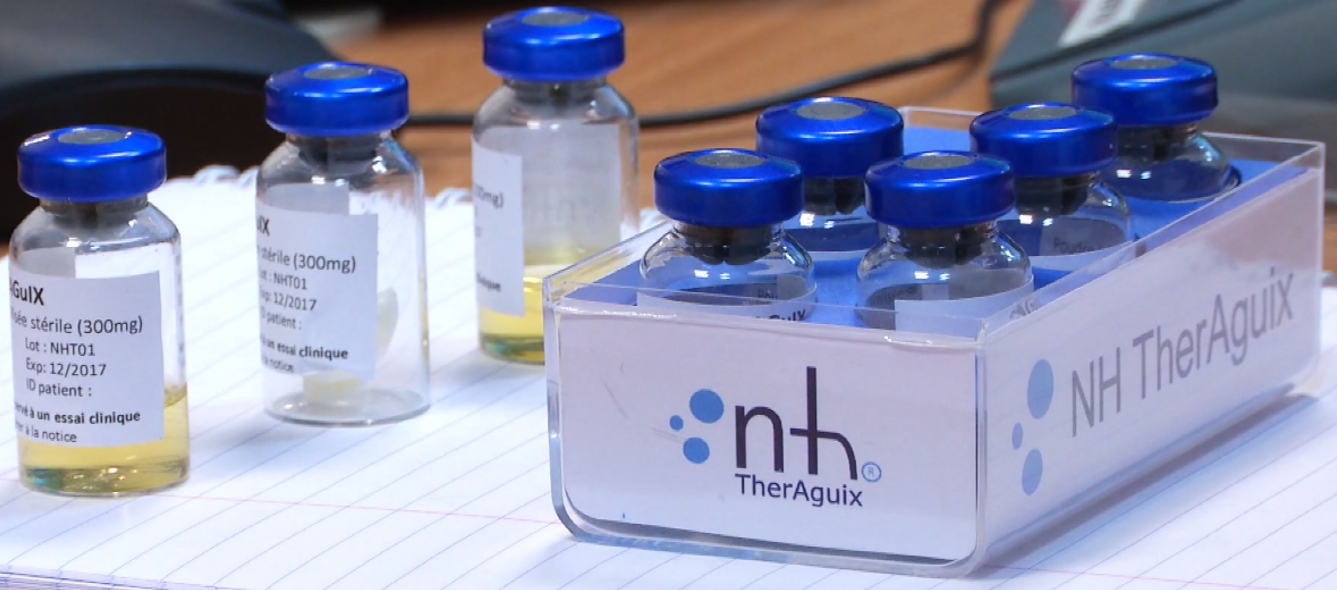 60% of cancer patients are treated by radiotherapy with an expected increase of 16% by 2025
However 48% of cancer patients receiving radiotherapy do not survive mainly related to unwanted damage of surrounding tissues and organs imposing dose limitations
In this context of high unmet medical need,
AGuIX® drug has the potential
to overcome these limitations
AGuIX® is an easy-to-use innovative drug that has the potential to fit well with multiple radiotherapy protocols and to be applicable to a wide range of cancer indications

AGuIX® drug selectively accumulates in tumors based on its small size after intravenous administration and excess is rapidly eliminated through the kidneys
AGuIX®
drug concentrates numerous gadolinium elements in its structure that provide:
Imaging property by magnetic resonance imaging (MRI)
Therapeutic activity through its radioenhancing property
Thanks to this combination of pharmacological properties, the AGuIX® drug could offer
a better lifespan and quality of life for patients affected by cancer