Nanomedicine
For Precision
Radiotherapy
Nanomedicine
For Precision
Radiotherapy
Nanomedicine
For Precision
Radiotherapy
Nanomedicine
For Precision
Radiotherapy
Nanomedicine
For Precision
Radiotherapy
Nanomedicine
For Precision
Radiotherapy
AGuIX®: an innovative nanodrug with the aim to improve radiotherapy treatment of cancer
NH TherAguix is pleased to announce that Fabien Boux which joined the Clinical Development Unit as Biomedical Engineer in January, was awarded with the Ph. D. prize 2020 of the Société Française de Résonance Magnétique en Biologie et Médecine ("SFRMBM"). [button...
NH TherAguix and the CHU Grenoble-Alpes announce the publication of the results of the First-In-Human phase 1 clinical trial on the combination of AGuIX with radiotherapy on multiple brain metastases patients - Grenoble (France), May 31, 2021 – 11:00 pm (CET) [button...
Radiother Oncol., 2021, 160, 159-165.C. Verry, S. Dufort, J. Villa, et al.
Science Advances, 2020, 6, eaay5279.C. Verry, S. Dufort, B. Lemasson, et al.
BMJ Open, 2019, 9, e023591.C. Verry, L. Sancey, S. Dufort, et al.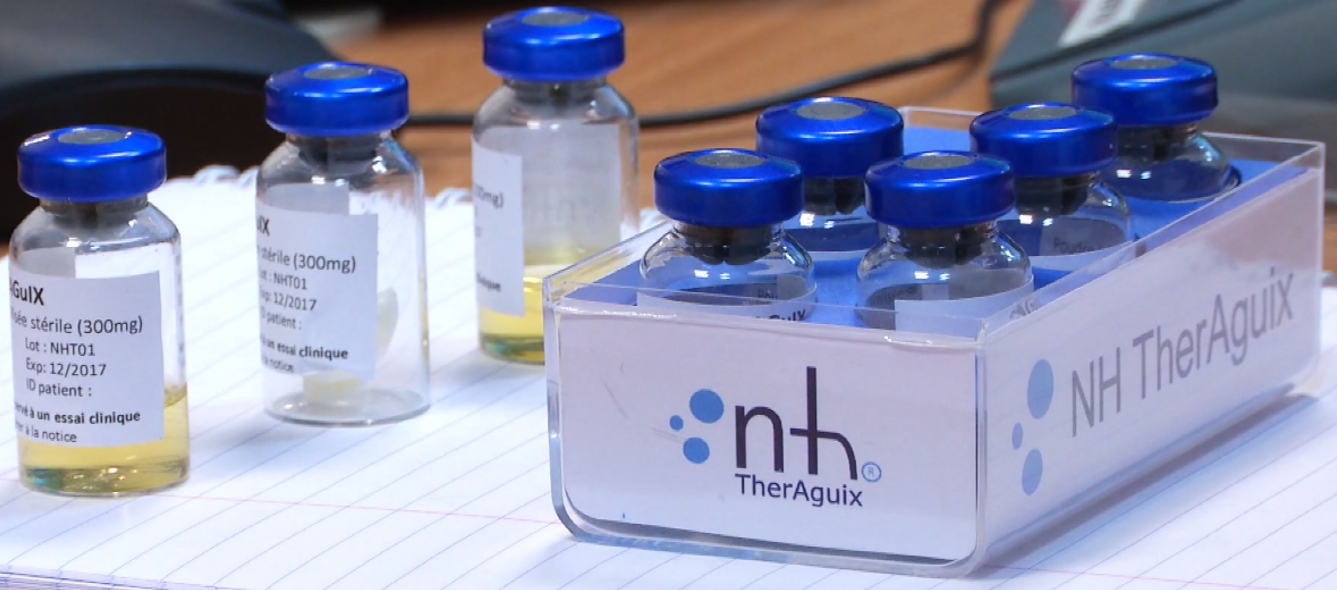 60% of cancer patients are treated by radiotherapy with an expected increase of 16% by 2025
However 48% of cancer patients receiving radiotherapy do not survive mainly related to unwanted damage of surrounding tissues and organs imposing dose limitations
In this context of high unmet medical need,
AGuIX® drug has the potential
to overcome these limitations
AGuIX® is an easy-to-use innovative drug that has the potential to fit well with multiple radiotherapy protocols and to be applicable to a wide range of cancer indications

AGuIX® drug selectively accumulates in tumors based on its small size after intravenous administration and excess is rapidly eliminated through the kidneys
AGuIX®
drug concentrates numerous gadolinium elements in its structure that provide:
Imaging property by magnetic resonance imaging (MRI)
Therapeutic activity through its radioenhancing property
Thanks to this combination of pharmacological properties, the AGuIX® drug could offer
a better lifespan and quality of life for patients affected by cancer