Nanomedicine
For Precision
Radiotherapy
Nanomedicine
For Precision
Radiotherapy
Nanomedicine
For Precision
Radiotherapy
Nanomedicine
For Precision
Radiotherapy
Nanomedicine
For Precision
Radiotherapy
Nanomedicine
For Precision
Radiotherapy
AGuIX®: an innovative nanodrug with the aim to improve radiotherapy treatment of cancer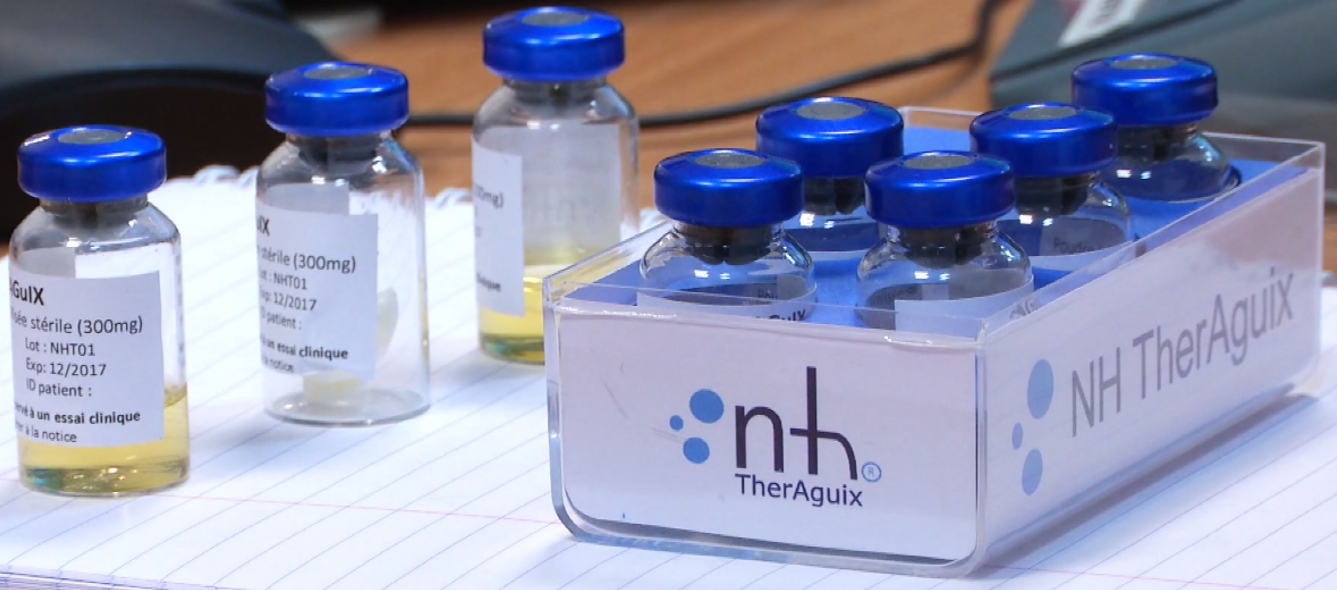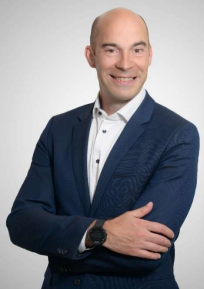 « NH TherAguix has developed an innovative nano drug to improve cancer treatment by radiotherapy. Its pharmacological properties and its mode of action by bio-distribution allow it to act in the heart of tumors and confer it a pan-cancer potential.
This is a tremendous hope for many patients whose medical needs are currently unmet. »

Vincent Carrère, CEO of NH TherAguix
Some figures about NH TherAguix
YEARS OF CLINICAL RESEARCH
OF CANCER PATIENTS ARE TREATED BY RADIOTHERAPY
MORE PATIENTS TO BE TREATED WITH RADIOTHERAPY BY 2025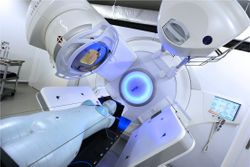 Radiotherapy: the future of cancer treatment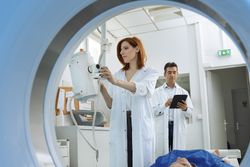 Nanoparticles for precision radiotherapy: combining diagnosis and treatment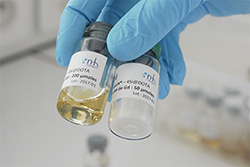 AGuIX®:
a technological platform resulting from 10 years of research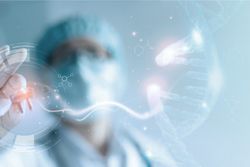 The triple action of AGuIX®
Due to its characterisation, AGuIX fits perfectly with the standard of care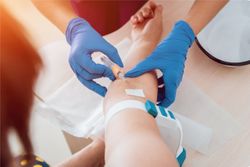 5 ongoing clinical trials about cancer in Europe and the US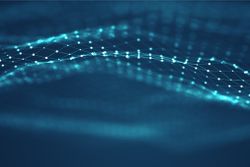 An industrial partnership with leading partners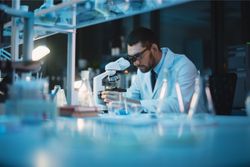 Radiotherapy: the future of cancer treatment
Widely used for decades, radiotherapy is considered one of the reference treatments for cancer: 60% of cancer patients are treated with radiotherapy at some stage of their treatment. With an expected increase of 16% in the number of patients treated by 2025, radiotherapy has become a permanent fixture in the oncology landscape, supported particularly by numerous possibilities for development with image-guided radiotherapy or in combination with immunotherapy.
Nanoparticles for precision radiotherapy: combining diagnosis and treatment
NH TherAguix has developed an innovative theranostic* approach in nanomedicine: designed to increase the dose and efficacy of radiotherapy within the tumor itself without increasing damage to healthy tissue, AGuIX® also allows for very precise guidance by imaging. NH TherAguix aims to make AGuIX® a new standard of care in oncology in the field of precision radiotherapy.
* Theranostic is an approach that uses imaging to map cancer in the body and treat them in a targeted manner.
AGuIX®: a technological platform resulting from 10 years of research
Recognized by the international scientific community through more than 70 scientific publications and 14 patent families, AGuIX® technology is based on the use of nanoparticles composed of gadolinium, an element already well known for its magnetic properties and used as a positive contrast agent for MRI since 1986. In addition to its magnetic properties, gadolinium has a high atomic number (Z = 64) allowing for a very strong interaction with X-rays. Once inside the tumor, it makes it more sensitive to X-rays, thus increasing the effectiveness of radiotherapy even though the dose of X-rays passing through normal tissue remains unchanged.
The triple action of AGuIX®: due to its characterisation, AGuIX® fits perfectly with the standard of care
Thanks to its nanometric structure, which allows administration by intravenous injection, and to its active principle, AGuIX® combines essential assets for fighting tumors (targeting, imaging and treatment) and is part of the theranostic concept, i.e. combining therapy (radiosensitizing effect) with diagnosis (MRI imaging).
The size of the AGuIX® nanoparticle allows it, once injected, to accumulate preferentially in tumors characterized by a porous vascular network, and not in healthy tissues, while presenting a rapid renal clearance, thus avoiding toxicity problems.
5 ongoing clinical trials about cancer in Europe and the US
– NANORAD 2, a multicenter Phase 2 trial, which is a continuation of the NANORAD 1 trial for the treatment of brain metastases, involving 100 patients. This trial is funded by NH TherAguix and promoted by the Grenoble University Hospital;
– NANOCOL, a Phase 1b trial in combination with cisplatin-based chemo-radiotherapy followed by brachytherapy (a radiotherapy technique that consists of placing radioactive elements inside the body, either in contact with the tumor or in the tumor itself), for the treatment of locally advanced cervical cancer – financed by a hospital-based clinical research program (PHRC) and promoted by the Gustave Roussy Institute;
– NANOBRAINMETS, a Phase 2 trial evaluating AGuIX® for the treatment of brain metastases by stereotactic irradiation. This trial is funded by NH TherAguix and promoted by the Dana Farber Cancer Institute (Harvard Medical School).
– NANOSMART, a Phase 1b/2 trial involving 100 patients to evaluate AGuIX in combination with stereotactic magnetic resonance-guided adaptive radiation therapy (SMART) for the treatment of locally advanced or unresectable pancreatic cancers and centrally located lung cancers/metastasis. This trial is funded by NH TherAguix and sponsored by the Dana-Farber Cancer Institute (Harvard Medical School);
 – NANOGBM, a Phase 1b/2 multicentric trial involving 66 patients for the treatment of newly diagnosed glioblastoma. This trial is funded by a PHRC and sponsored by the Centre Jean Perrin (Clermont Ferrand);
NANORAD 2
CHU Grenoble-Alpes


100 patients randomized

NANOBRAINMETS
Dr. Aizer at Dana-Farber/Harvard Cancer Center
134 patients randomized

NANOCOL
Institut Gustave Roussy
12 patients

NANOSMART
Dr. Leeman at Dana-Farber/Harvard Cancer Center
100 patients randomized

NANO-GBM
Centre Jean Perrin
66 patients randomized
An industrial partnership with leading partners
Internationally renowned drug manufacturers and contract research organizations (such as Sanofi, EuroAPI, Sai Life Science, Carbogen Amcis, Quality Assistance and Eurofins) are involved in the production, the characterization, and the release of AGuIX, including starting materials, and its labeling, packaging and distribution to clinical centers.






NH TherAguix annonce le lancement de la campagne de communication par la société Pivotal, pour aider au recrutement de patients dans l'étude NANORAD2 dont le promoteur est le CHU Grenoble Alpes. [button link="https://www.c-lys.com/fr/metastases_cerebrales"...
NH TherAguix and Jean PERRIN Cancer Centre in Clermont-Ferrandannounce the completion of phase I recruitment and the entry into Phase II for the Nano-GBM phase I/II trial in glioblastoma with the two first patients included. [button...
J Magn Reson Imaging. 2022 Oct 31. doi: 10.1002/jmri.28509A. Lavielle, F. Boux, J. Deborne, et al.